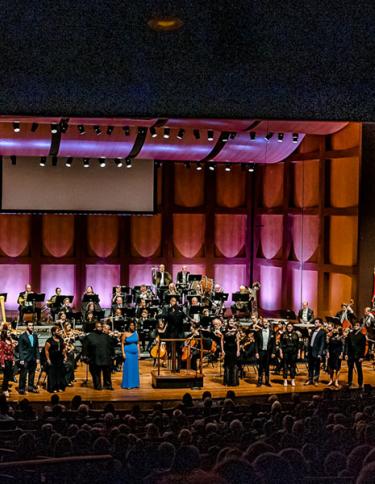 Philip Murphy
As a precautionary measure against the spread of COVID-19, we will operate with a limited staff on-site and the Box Office will be closed. Staff will be available by telephone and email. Please note that the parking garage and convention center are currently closed due to renovations.  
Elvis Presley, Baryshnikov, and Barney played the historic Ellis Auditorium, which closed in 1996 after 77 years.  On the same spot, just a few years later in 2003, the Cannon Center, designed to exacting acoustic standards, became Memphis' most modern theater and home to the renowned Memphis Symphony Orchestra.
While the acoustics are nearly flawless, they are only matched by the beauty of the theater.  Indeed, U2's Bono called the Cannon Center an "amazingly beautiful theater" during his acceptance of the Freedom Award from the National Civil Rights Museum.
With 2,072 seats, a Broadway-sized stage and multiple dressing rooms, the Cannon Center can host any event. Opera, boxing, theater, rock and roll, corporate meetings, awards shows, country concerts . . . our professional event staff has seen it all.
The Cannon Center is located in Downtown Memphis, adjacent to the 600-room Sheraton Memphis Downtown Hotel and connected to 750 covered and secured parking spots.  Experience the convenience, beauty and acoustic excellence of the Cannon Center.