Je'Caryous Johnson Presents "Set It Off"
Oct 31, 2021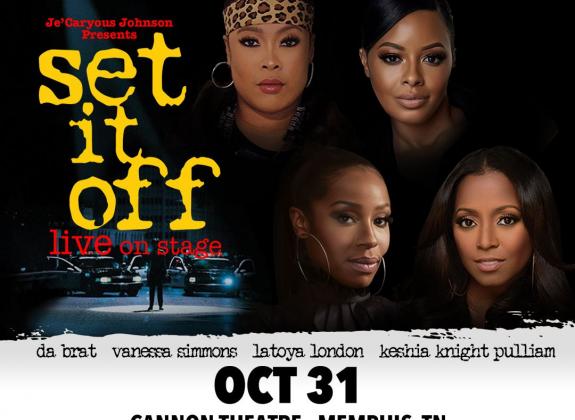 The Cannon Center for the Performing Arts
255 N Main St.
Memphis, TN 38103
United States
Oct 31, 2021
at 4:00pm to 7:00pm
Oct 31, 2021 at
4:00pm – 7:00pm
Oct 31, 2021 at
8:00pm – 11:00pm
POSTPONED!  New Date October 31, 2021
ATTN:  Due to local restrictions created by COVID-19 Both Performances have been RESCHEDULED for May 31, 2021.   
To all our fans in Memphis, we want to thank you for your patience and support as we continue to navigate through all of the important information and updates on Coronavirus (COVID-19). 
SET IT OFF's originally scheduled performance on Saturday, March 14, 2020 which was rescheduled for May 30, 2021 has been rescheduled for October 31, 2021. Anyone who purchased tickets will be honored for the new date for your original purchased performance time. Please hold on to your tickets.  Again, your tickets will be honored for the new date and same time. 
For the latest updates or information regarding tickets please send emails to [email protected]  or please visit our website at www.jecaryous.com and follow us on all our social media channels
IG at @jecaryous, on Facebook at https://www.facebook.com/jecaryousjohnson, Twitter at https://twitter.com/jecaryous).
The safety, security and well being of all our fans at Je'Caryous Entertainment has and will continue to be our primary objective.  Continue to stay safe out there and we will see you in September. 
Je'Caryous Johnson Presents "Set It Off"
Award winning writer/director/producer Je'Caryous Johnson takes audiences beyond the movie screen and brings to life the bank heist movie that shook the country. Come relive the nostalgia of one of the greatest urban cult classics: Set It Off Live on Stage.
Join Stoney, Cleo, Frankie, and Titi as their strength, loyalty, and ultimately friendships are tested when they fight their way out of poverty by doing the unthinkable: banning together as four black women to rob a bank. Critics and fans continue to rave about the action packed, yet heart felt, theatrical experience featuring an unprecedented, crowd pleasing performance by Hip Hop legend Da Brat as Cleo, along with Keshia Knight Pulliam, Vanessa Simmons and Latoya London. 
Artist scheduled to appear are subject to change. No refunds. No Exchanges. No Exceptions.